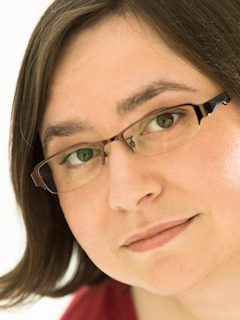 Dr. Katina Baharova
Academic Coordinator
Active for the Research Team in Trier:
01/10/2017 - 30/06/2021
Email:
katina.baharova@uni-saarland.de
Phone:
+49 681 302 2189
Research Focus:
Main Research Areas

Comtemporary Russian-language poetry
Undergroud Russian poetry
Russian Symbolisms
Inter- and transculturality in literature
Weitere Forschungsgebiete
historical fiction in the Bulgarian literature
Literatur und psychology
Publications:
Recent publications:
Der Traum in der neueren russischen Lyrik. Elena Švarc, Ol'ga Sedakova und Gennadij Ajgi. Berlin 2021.
A complete list of publications can be found here.
Career:
Since October 2017: Academic Coordinator at the DFG Center for Advanced Studies "Russian-Language Poetry in Transition" (FOR 2603)
April 2015 – October 2018: PhD at the DFG Research Training Group "European Dream-Cultures" and the University of Saarland
January 2015 – March 2015: Graduate Research Assistant for the Interdisciplinary Project "Soziale Medien und politische Öffentlichkeit. Zur diskursiven und konfigurativen Leistung partizipatorischer Kommunikationsmedien für die politische Meinungsbildung" (Media Studies, Slavic Studies, Political Science, and Business IT)
November 2014 – March 2015: Guest Lecturer at the Slavic Studies Department of the University of Trier; Lecturer in Russian at the Language Center of the University of Trier
June 2014: Master of Arts at the University of Trier (Slavic Studies and Political Science)
October 2012 – November 2013: Research Assistant at the University of Trier, Slavic Studies
November 2011 – September 2012: Research Assistant at the DFG-Project "Andrej Belyjs Istorija stanovlenija samosoznajuščej duši: textkritische, kommentierte Edition mit Studien zum Kontext"
Memberships
Member of German Association of Slavists (since 2015)
Member of the Kues Academy for European Intellectual History e.V. (sinse 2010)