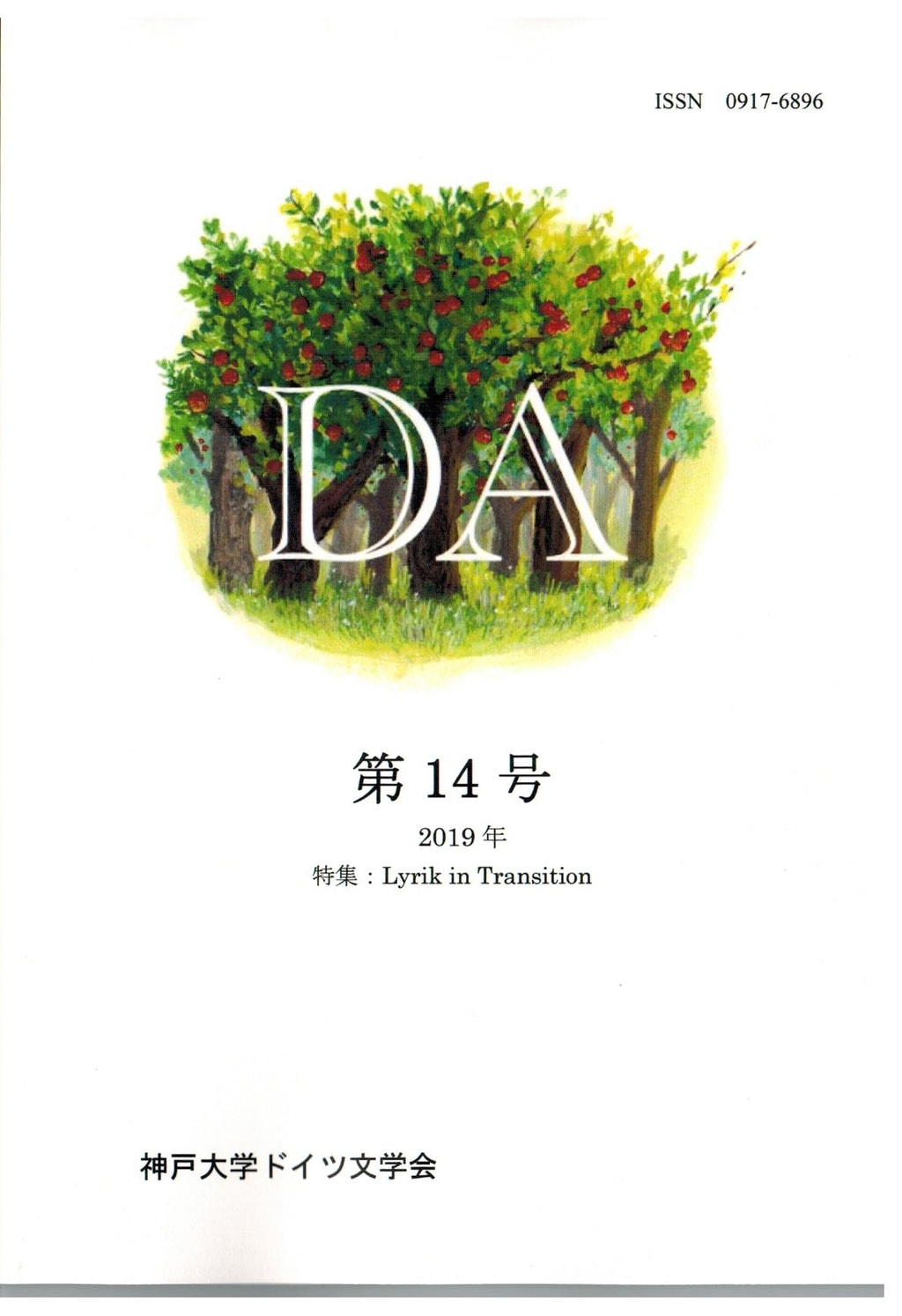 Japanese publication of the Research Group: Focus on Poetry in Transition.
---
Japanese publication of the Research Group: Focus on Poetry in Transition. In: DA. Journal for German Studies at the University of Kobe. Vol. 14 (2019)
Content:
The current issue of the Japanese journal DA is dedicated to the DFG Research Group's central topic, "Poetry in Transition," containing two articles each by renowned German and Japanese academics working at or with our Research Group. The publication aims to make the results of the collaboration between the Japanese and German scholars involved in German, Slavic, and English Studies accessible to their Japanese colleagues. Hence, the German contributions have been translated into Japanese. The current issue presents studies on two of the research group's main topics – Transition of Genres and Transition of Cultures. The German contributions examine genre transitions of the poem to the dramatic and the epic in Russian, British, and North American contemporary literature, while the Japanese essays deal with the poetic handling of nature and natural disasters in the field of tension of inter- and transcultural relations between Japan and Germany:
Henrieke Stahl: The Verse Novel. A Prototype and its Manifestations in Contemporary Literature.
Peter Hühn: Generic Extension in Contemporary British Poetry.
Hiroshi Yamamoto: "mitten im japonisierenden Wandbehang." On Marion Poschmann's poetry collection "Geliehene Landschaften."
Hiroko Masumoto: Hopeful Dystopia: Yoko Tawada's Poetic Discussion of the Nuclear Catastrophe in Japan.
Content (Japanese):
コレークの研究成果が日本で刊行されました。神戸大学ドイツ文学会編『DA』第14巻(2019年)の特集号です。
日本の学術誌『DA』はコレークの研究課題「詩のトランジション (Lyrik in Transition)」をテーマに特集を組み、ドイツ文学、ロシア文学、英文学を専門とする研究者による共同研究の成果を日本にも紹介することを目的として、コレークで活躍するドイツと日本の研究者が執筆した論文を2本ずつ掲載しています。ドイツ語論文は日本語に翻訳しました。この特集号では、コレークの主要テーマのうち、「ジャンルのトランジション」と「文化のトランジション」に関する研究を紹介しています。ドイツ人研究者の寄稿では、ロシアと英米の現代文学において抒情詩が演劇化あるいは叙事文学化しつつあるというジャンル的トランジションの問題を、また日本人研究者の寄稿では、日独文化間の緊張関係の中で、現代詩が自然や自然災害をどのように描いているかという問題を扱っています。
ヘンリーケ・シュタール「詩小説―プロトタイプ、そして現代における現象形式」
ペーター・ヒューン「現代イギリス詩におけるジャンル的拡張」
山本浩司「ジャポニズムの壁掛けの真っ只中に」―マリオン・ポッシュマンの庭園詩集『借景』について
増本浩子「希望に満ちたディストピア―多和田葉子の震災文学」