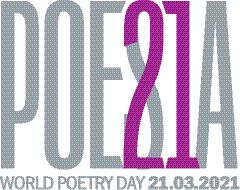 World Poetry Day - Hosted by World Poetry Center at Russian Academy of Sciences and the Moscow Biennale of Poets
---
The DFG Center for Advanced Studies in the Humanities "Russian-Language Poetry in Transition" (FOR 2603) cordially invites you to the online poetry festival
POESIA 21
World Poetry Day

Our Center co-curates and co-presents the hub "Northern and Central Europe"
Organizer:
World Poetry Center at the Russian Academy of Sciences
Moscow Biennale of Poets
POESIA 21
World Poetry Day
World Poetry Day, established by UNESCO to be held on March 21st, will this year be hosted online as the  Poesia 21, where 8 live-stream broadcasts will be held all day long, from China to Latin America, from Northern Europe to Sub-Saharan Africa.
The readings will be performed by 350 poets from 93 countries, speaking 70 languages. For 20 hours, viewers will have the opportunity to travel across countries and continents, choosing their own route through the world of poetry. They will be able to listen to the originals and see translations of the orated texts in different languages, including but not limited to Russian and English.
Full information about the participants of World Poetry Day, their poems, and translations will be available on the Poesia 21 webpage (https://poesia.world/).

General Schedule for World Poetry Day Broadcasts, Central European Time:
East and Southeast Asia, Australia and Oceania 7:00 – 15:00
South Asia 7:30 – 17:30
Northern and Central Europe 10:00 – 14:00 and 17:00 – 22:00
Eurasia 11:00 – 14:00 and 16:00 – 21:00
Southern Europe 11:00 – 14:00 and 16:00 – 21:00
Sub-Saharan Africa 12:00 – 16:00
North Africa 13:00 – 19:00
America 17:00 – 21:00 and 23:00 – 03:00
The Eurasian Hub of Poesia 21 will run from 11:00 to 14:00 and from 16:00 to 21:00 Central European Time. More than 45 poets from Russia, Belarus, Georgia, Azerbaijan, Kazakhstan, Uzbekistan, Turkey, Mongolia, and Israel will participate. Of particular interest is poetry in the local languages of the peoples of Russia – Buryat, Kabardian, Tatar, Udmurt, Chuvash, Yakut, and Chechen, translated not only into Russian but also into other European languages. The poets of the Eurasian hub will read not only their own poems, but also translations of various authors of world poetry. Emily Elizabeth Dickinson, Robert Frost, Taras Shevchenko will be heard in Russian, verses by Seferis (Γιώργος Σεφέρης) – in Udmurt, Vladimir Mayakovsky – in Buryat, Seamus Heaney – in Kazakh, Osip Mandelstam – in Tatar, Sergei Yesenin – in Chechen, Paul Celan – in Belarusian. Among the participants are poets whose work has been translated into many languages, and laureates of many national and international awards: Nurit Zarchi, Efe Duyan, Olga Sedakova, Maxim Amelin, Andrei Sen-Senkov, Shota Iatashvili, etc.
The Northern and Central European Hub will be broadcasting from 10:00 to 14:00 Central European Time and then again from 17:00 to 22:00. This hub will feature poets from 20 countries: Austria, Belgium, Great Britain, Hungary, Germany, Denmark, Ireland, Iceland, Latvia, Lithuania, Luxembourg, the Netherlands, Norway, Poland, Slovakia, Finland, France, Czech Republic, Switzerland, Sweden, and Estonia. Among them are many masters of the various national schools of poetry – Englishwoman Fiona Sampson, German Björn Kuhligk, Pole Adam Wiedemann, French Linda Maria Baros and Sylvestre Clancier, Luxembourgian working in France Jean Portante – and brilliant debutants from recent decades such as the Swede Elis Burrau, German Tristan Marquardt, as well as Lithuanians Tomas Petrulis and Ieva Toleikytė. The borderless nature of the readings will emphasize the participation of a number of authors, whose life's work touches multiple cultures: for example, Olga Martynova writes in Russian and German, and Linda Maria Baros was born and raised in Romania but became a French poet. Many of this hub's participants will read translations as well.
The Southern European Hub will run from 11:00 to 14:00 and will resume its broadcast from 16:00 to 21:00 Central European Time. This hub will begin with poets from Greece, a country to which we owe not only the Olympic Games but also the initiative to hold World Poetry Day. The Balkans is a unique region with the largest number of poetry festivals in Europe. This hub will be attended by 40 poets from Spain, Italy, Portugal, Greece, Croatia, Cyprus, North Macedonia, Montenegro, Serbia, Slovenia, Bulgaria, Albania, Bosnia, Romania, and Ukraine. Poems will also be recited in minority languages, whose poetry is now experiencing rapid growth and is attracting increasing public interest; poets from Galicia, Catalonia, Valencia, and Friuli will perform in this section. 
The East/Southeast Asia, Australia, and Oceania Hub will be attended by nearly 50 poets from 11 countries who write in and speak Chinese, Japanese, Korean, Vietnamese, Malay, Tagalog, Indonesian, Thai, Khmer, English, Tibetan, and Lolo-Burmese, Miao (Hmong), and Puyuma, as well as many other languages, including minority languages. From 7:00 to 9:00 poets from China will read their poems, at this time, audience members will have the opportunity to hear readings in many Chinese dialects, to hear the poetry of Fernando Pessoa and Yves Bonnefoy in Chinese. Poets from Macau and Hong Kong will perform as well. This hub will also feature Zheng Xiaoqiong, the most famous author from the poetry movement of migrant workers. From 9:00 to 11:00, poets from Korea, Vietnam, Cambodia, and Japan will recite poetry, including the Khmer poets Phina So and Yeng Chheangly, as well as famous Japanese authors Takako Arai and Yosuke Tanaka. From 11:00 to 13:00, poems from the Philippines, Malaysia, Singapore, Indonesia, Australia, and New Zealand will be recited. The hub at this time will feature poets speaking Oceanic languages, bilingual poets, representatives of Indonesian Internet poetry, and award-winning Australian poets Sarah Holland-Batt and LK Holt. At 13:00 pm, the broadcast from China will resume (until 15:00). This part of the broadcast will feature the most important figures in the "spoken verse" movement – Han Dong, Yu Jian, Shen Haobo – and Taiwanese poets Chen Kehua and Yang Xiaobin. In addition, verses in Cantonese (Yue) will be read.
The South Asian Hub of Poesia 21, which will run from 7:30 to 17:30 Central European Time, vividly showcases the diversity of languages, styles, and characteristics within the region's poetry. It will feature over 50 poets from India, Nepal, and Pakistan; The readings will be divided by language into 5 parts: Bengali, Dalit, English, Hindi, and a multilingual section. In poetry and translations, in addition to Hindi, Bengali, and English, many other languages of the subcontinent will also be represented: Assamese, Gujarati, Kannada, Malayalam, Manipuri, Marathi, Punjabi, Rajasthani, Sindhi, Tamil, and Urdu. Among the participants are the acclaimed poets Trishna Basak, Leeladhar Mandloi, Jayant Parmar, K. Satchidanandan, Rati Saxena, Yuyutsu Sharma, and Arundhathi Subramaniam.
The Sub-Saharan Africa Hub will run from 12:00 to 16:00 Central European Time. 25 poets from Kenya, Nigeria, Namibia, Togo, Cameroon, Zimbabwe, Uganda, Tanzania, South Africa, Madagascar, Ghana, and Sierra Leone will read their poems there. The predominant languages of this section are English, French, and Swahili, the latter being one of the most spoken languages throughout the African continent, the Gusii language (Ekegusii) will also be represented. Since most poets participating in this hub write predominantly in English, not much of their poetry has been translated into foreign languages. During the preparation for this festival, the poems of many participants were translated into Russian, and for some, this was their first experience of being translated into another language. This hub's participants write about acute social problems, and many recent poems are dedicated to covid-19.
The North African Hub will broadcast from 13:00 to 19:00 Central European Time, it is represented by 33 poets from the Arabic-speaking countries of the region: Egypt, Algeria, Libya, Tunisia, and Morocco. Among them are acclaimed poets such as the laureate of the national campaign of Morocco Driss Maliani, whose poetry has been translated into all major European languages; living classic of Arabic literature Mohamed Ali Rebbaoui; Egyptian poet and filmmaker Safaa Fathy, the foreword to whose poetry collection was written by Jacques Derrida. The Arab poetic tradition is one of the oldest in the world: it has been developing continuously since at least the 7th century AD, and each new poet in this tradition looks for their own ways of interacting with it. Arabic poetry has changed a lot over the past hundred years: it has thrown away its traditional dimensions and themes but retained all the deep richness of its language. Of particular interest in Arabic poetry is the rapidly developing scene of female poetry.
The American section of Poesia 21 will broadcast from 17:00 Central European Time until 21:00, and from 23:00 to 3:00 in the morning. It will cover both continents, with poets from: Argentina, Bolivia, Brazil, Venezuela, Canada, Colombia, Costa Rica, Cuba, Mexico, Peru, El Salvador, Saint Lucia, USA (Alaska, El Paso), Trinidad and Tobago, Chile, and Ecuador. Of particular interest are the poets who write in the indigenous languages of both North and South America – Inuit, Nahuatl, Zapotec, etc. North American poets include renowned masters such as Pulitzer laureate Forrest Gander, winner of the Bollingen Prize Charles Bernstein, and winner of the National Book Award (USA) Arthur Sze. Latin American poetry will also be represented by no less eminent authors: among its stars is Jorge Galán, laureate of the Royal Academy of the Spanish language, from El Salvador, and one of the most powerful voices writing in modern Spanish, and the winner of many awards, Colombian Piedad Bonnet.