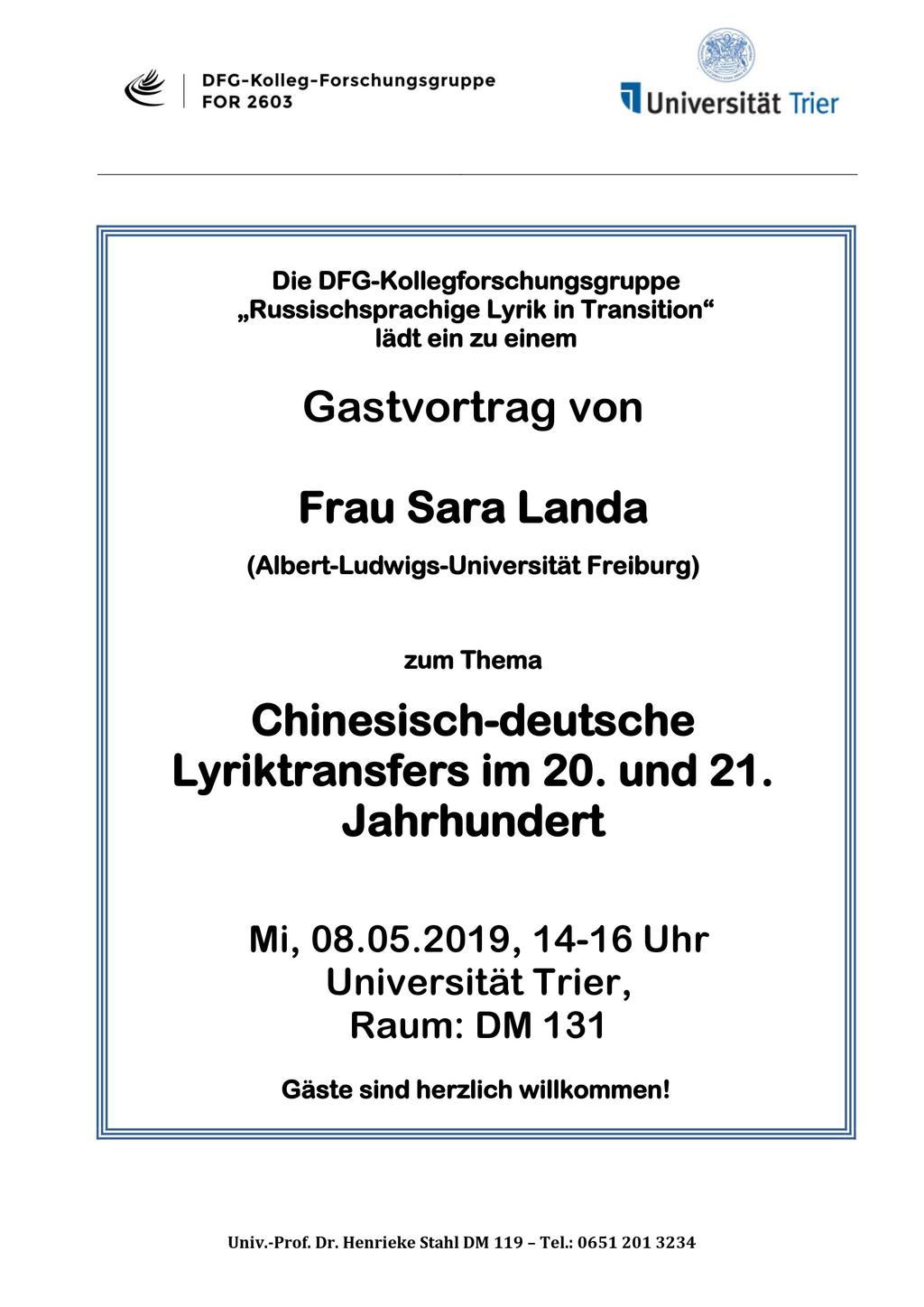 Guest lecture - Sara Landa: "Chinesisch-deutsche Lyriktransfers im 20. und 21. Jahrhundert"
---
The DFG Centre for Advanced Studies "Russian-Language Poetry in Transition" (FOR 2603) invites you to a guest lecture on by Mrs. Sara Landa: "Chinesisch-deutsche Lyriktransfers im 20. und 21. Jahrhundert" [Chinese-German poetry transfers in the 20th and 21st centuries]
About the lecture:
Chinesische Dichtung hat insbesondere seit dem frühen 20. Jahrhundert eine Vielzahl deutschsprachiger Dichter fasziniert und inspiriert, auch wenn viele der Autoren die Werke nur indirekt über vorliegende Übertragungen oder aber in Zusammenarbeit mit Sprachkennern rezipieren konnten. Neben der traditionellen, v.a. Tang- und Songlyrik, die lange Zeit im Zentrum stand und für Autoren wie Richard Dehmel, Klabund und Albert Ehrenstein bis hin zu Bertolt Brecht und Günter Eich eine große Rolle spielte, wurde ab der Jahrhundertmitte auch die Lyrik des 20. Jahrhunderts übertragen, sowohl baihua-Dichtung als auch moderne Texte nach klassischen Formen, vor allem die klassischen Gedichte von Mao Zedong und Lu Xun, die unter anderem von F.C. Weiskopf respektive Jürgen Theobaldy aufgegriffen wurden. In jüngster Zeit sind es vermehrt Dichter mit sinologischem Hintergrund oder China-Erfahrung, die versuchen, den chinesischen Dichtern eine deutsche Stimme zu leihen und Impulse für die eigene Schreibarbeit zu bekommen, unter ihnen Wolfgang Kubin, Lea Schneider und Martin Winter.
Im Vortrag soll gezeigt werden, wie vielseitig sich der chinesisch-deutsche Lyriktransfer gestaltet und wie eng chinesische und deutsche Dichtung verschränkt sind. Des Weiteren soll diskutiert werden, mit welchen Forschungszugängen man sich solchen Phänomenen des Literaturaustauschs nähern kann.
Guests are welcome!