Project Information
The flyer in PDF format can be found here.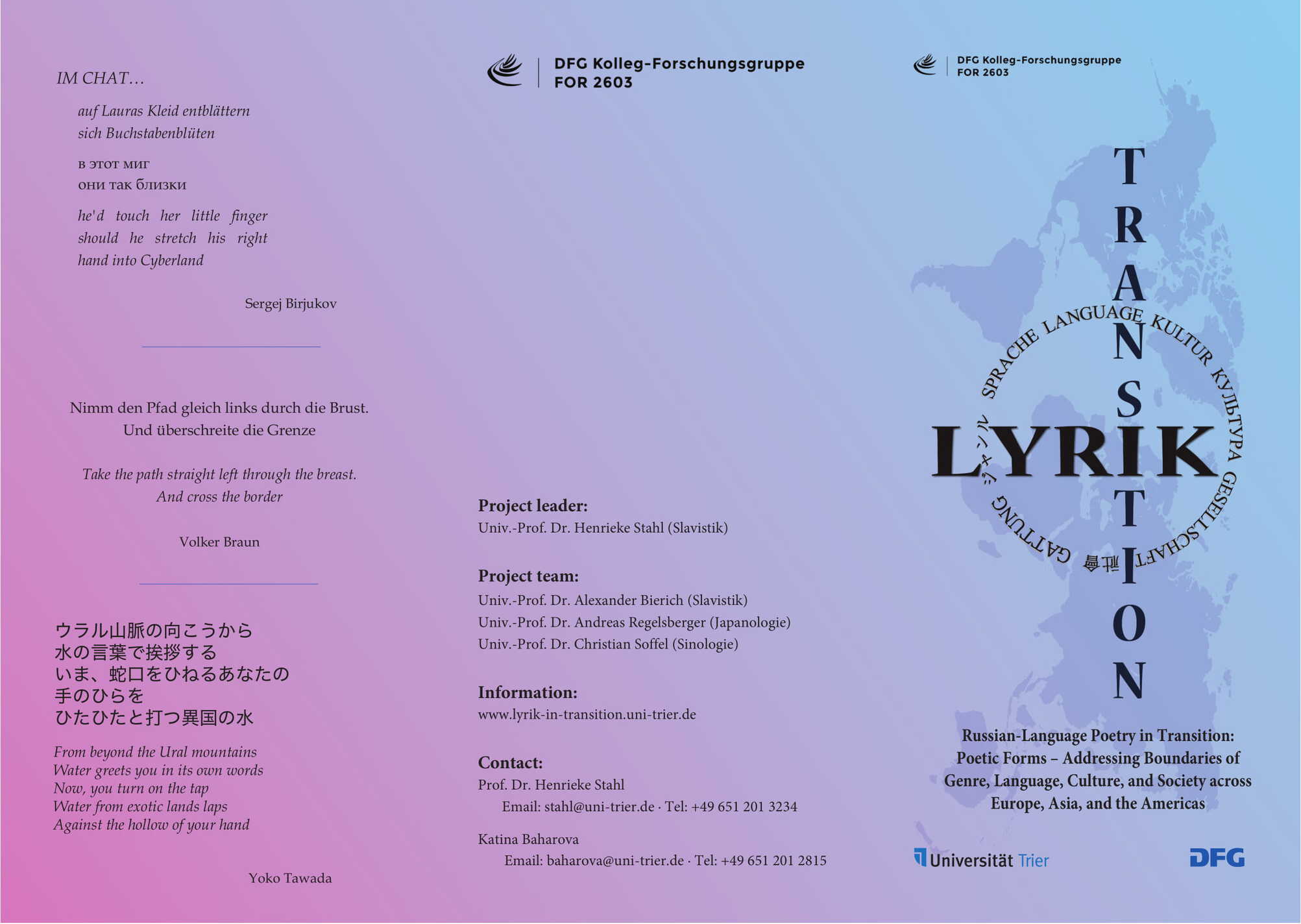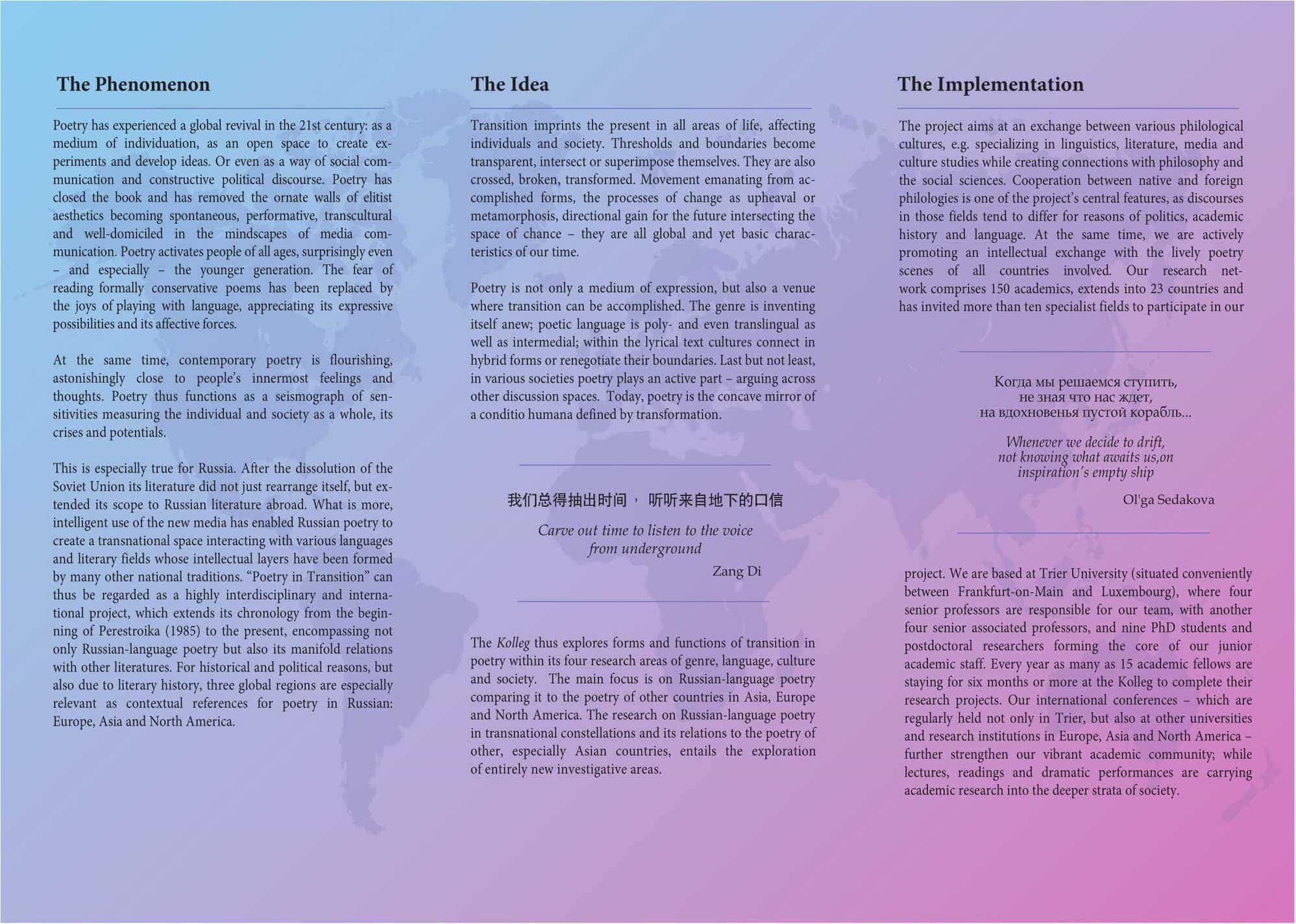 On 11 March 2015, the poetry clip "Poems on the Trolley Bus. Kiev" was uploaded to youtube. In a paradigmatic manner, it shows that the different ways of transition addressed in contemporary poetry have not only spread on a hitherto unknown scale, but have also gained new and innovative qualities. Contemporary poetry has, in fact, arrived at the centre of society and in this case is literally moving in transit via a public bus in Kiev. Hence, during the course of the video clip, we are able to witness poetry alive, in the form of several poems contributing to the conversation.
In the aforementioned video, transition touches on four borders: firstly, the borders of genre: poetry does not confine itself to the spoken or written word, but melds with performance, drama and film. Secondly, the borders of language: during the conflict between Russia and Ukraine, poetry in the Russian language has been created in the very heart of Kiev, yet the video is referenced as Ukrainian art. Thus thirdly, we might assume that the distinctly drawn border between Russian and Ukrainian culture has been in transition. And, fourthly, the borders of society have been affected, since the actors, by their choice of language, are defying the prevailing political norm.
Consequently, transition in contemporary poetry is particularly concerned with the borders of genre, language, culture and society. The aforementioned example further illustrates why the title of our project does not refer to "Russian" poetry in an ethnic, political or geographical sense, but rather more appropriately refers to "Russian-language" poetry.
Outside the Russian Federation, Russian-language poetry is particularly widespread across three continents: Europe, Asia and the Americas. This has occurred on the one hand because Russian émigrés have tended to favour certain exile countries and, on the other hand, neighbouring states and geographic proximity have facilitated literary inter-relations. Due to emigration, Germany, Switzerland and France have remained particularly important for Russian-language literature in Europe, not unlike Canada and the United States in the Americas. However, in Asia, neighbouring China plays a leading part in the dissemination of Russian-language poetry, and Japan continues to facilitate the manifold uses of Russian.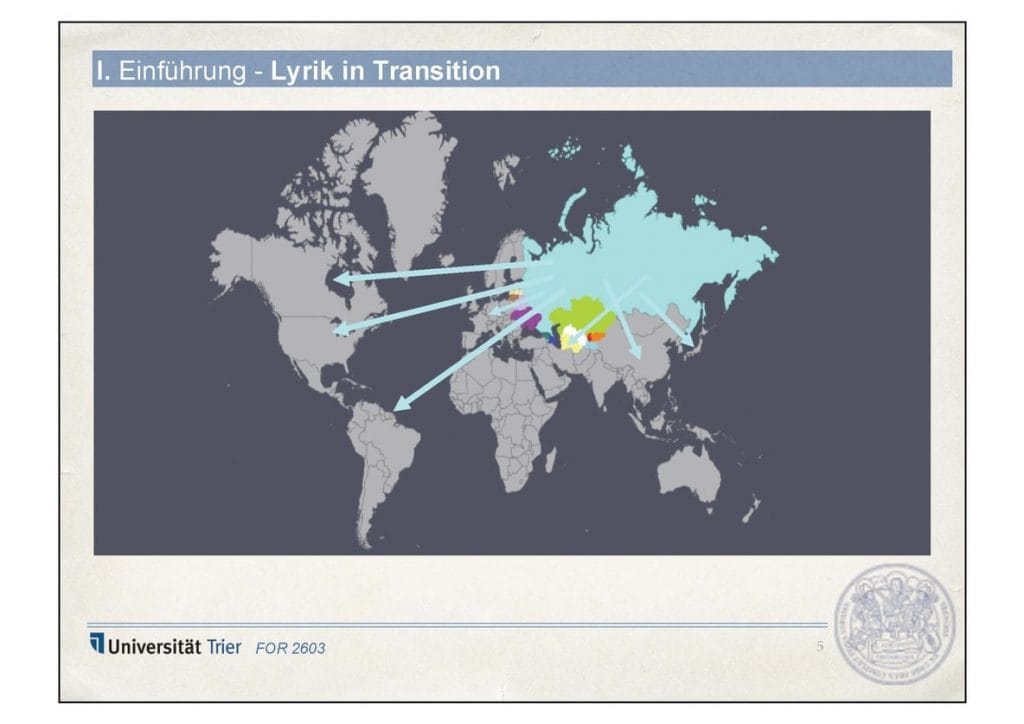 During the Soviet era, boundaries between national (viz. Soviet) literature and Russian-language literature in exile were sharply drawn; yet today they have been removed – exchange and contact, aided by the internet, connect Russian-language poetry on a global scale. Open spaces of Russian- language poetry have evolved that can be structured according to criteria like discourse or platform. Moreover, these open spaces of Russian-language poetry interact with the national fields of poetry as well as the poetic spaces of other languages.
The outline sketched above identifies our research topic: Russian-language poetry in transition between Europe, Asia and North America. We have limited our research topic to poetry that reveals the phenomena of transition, specifically as the areas of genre, language, culture, and society are concerned. And here, the poetic text enjoys priority in our academic work.
The project puts an emphasis on Russian-language poetry, which forms the core of our activities and enjoys no less than fifty percent of our academic attention. Building upon this foundation, poetry in other language areas will be explored: In the first phase, we are focusing on not only Asia with the inclusion of Japanese and Chinese poetry but also Europe, where our research is primarily dedicated to contemporary poetry in German. In the second phase, we will place greater emphasis on poetry in English and in Romance languages within the context of their respective cultural areas.
Our chosen chronological framing begins in 1985. Due to the transition processes since the end of the 1980s, caesura of literary importance emerged that have not only unsettled the former Warsaw Pact countries, but which have also touched Germany (Reunification), China (Tiananmen Square Massacre) and Japan (Economic Bubble).
The term "transition" is, firstly, referring to processes of political transformation and secondly, protest against cultural and social marginalization. And yet thirdly, since the Russian avant-garde (1890-1930), the term has been applied in particular to poetry transgressing the boundaries of literature. The meaning of each one of the three cases bears relevance for contemporary poetry. For our project, the epistemic value of the term "transition" can be found in its capacity to allow us to understand processes of both transgression and transformation, which in turn are directed towards the disruption, dissolution, shifting, crossing, and even reconstitution of boundaries.
Three Questions Guiding Our Research
Firstly: which forms of "transition" since 1985 are new to Russian-language poetry on the one hand, and which are new to Japanese-, Chinese-, and German-language poetry on the other?
Secondly: which similarities concerning transition can be discerned in the aforementioned language areas?
Thirdly: Can causes of transition be accounted for? While the first question is predominantly limited to individual case studies and non-comparative approaches, the two subsequent questions are pursued by collaborative research.
Research Design
Topic and research question are taken into account by our research design, which (1) analyses poetry, i.e. text and discourse, by applying rigid academic standards. This is enhanced by (2) a comparative cultural approach, oriented towards a study of 'similarities'. 'Similarity' encompasses both likeness and difference and is thus suitable to describe processes of transition as well as non-related or hybrid phenomena. (3) Methodologically, our research is inspired by 'croisement' and, subject to a given research task, we make use of a variety of methods. (4) The distinctive feature of our research design consists of the connection between text analysis and cross-cultural comparison. For culture does not only establish the context of poetry; reciprocally, poetry constitutes a precedent for culture. Our comparative work is oriented towards collaborative research among our permanent team and our fellows.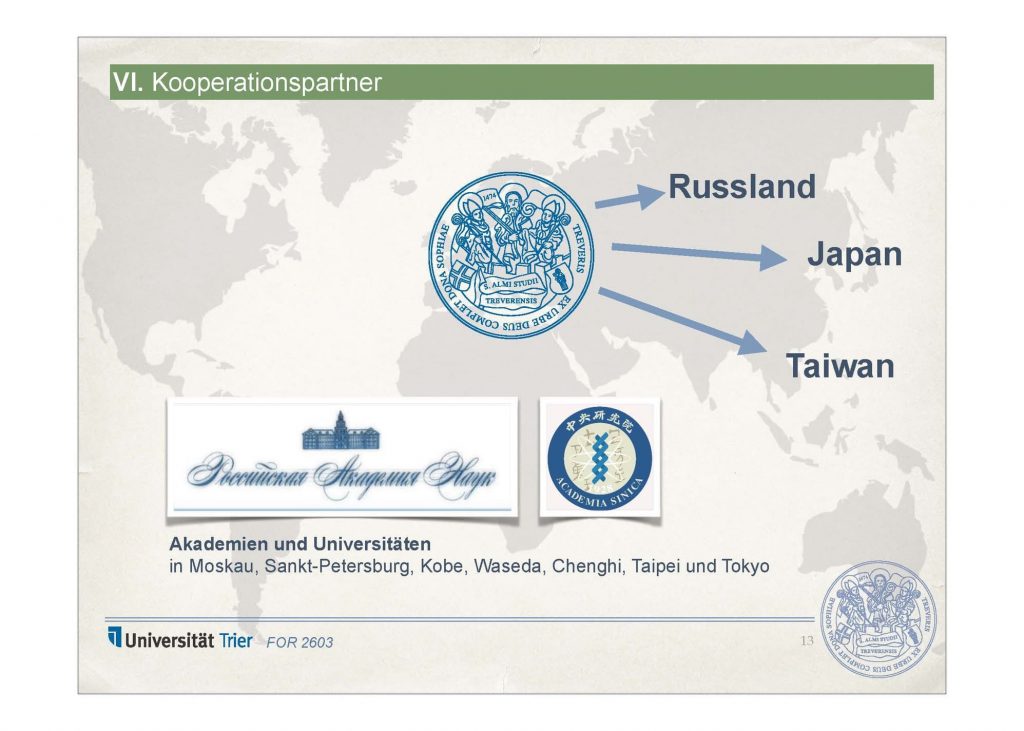 Institutional cooperation partners of the project include the three Institutes of the Russian Academy of Sciences in Moscow, the Academia Sinica in Taipei, as well as five partner universities in Russia, Japan, and Taiwan.
Contemporary poetry is still uncharted territory that in recent years has been increasingly discovered as an important area of research. In our groundwork for this project we determined that a research network is a particularly productive means of exploring contemporary poetry because – through a network – multiple perspectives can simultaneously come together to navigate an otherwise unmanageable terrain. Consequently, we have founded an international and multilingual series for contemporary poetry ("Reihe Neuere Lyrik"), which features intercultural and interdisciplinary studies on an Open Access platform. Co-editors are fellows as well as partners of the research network from Harvard, Kobe and Moscow among others. Two volumes of Deutsche Forschungsgemeinschaft (DFG; German Research Foundation) sponsored conferences have already been published within this series.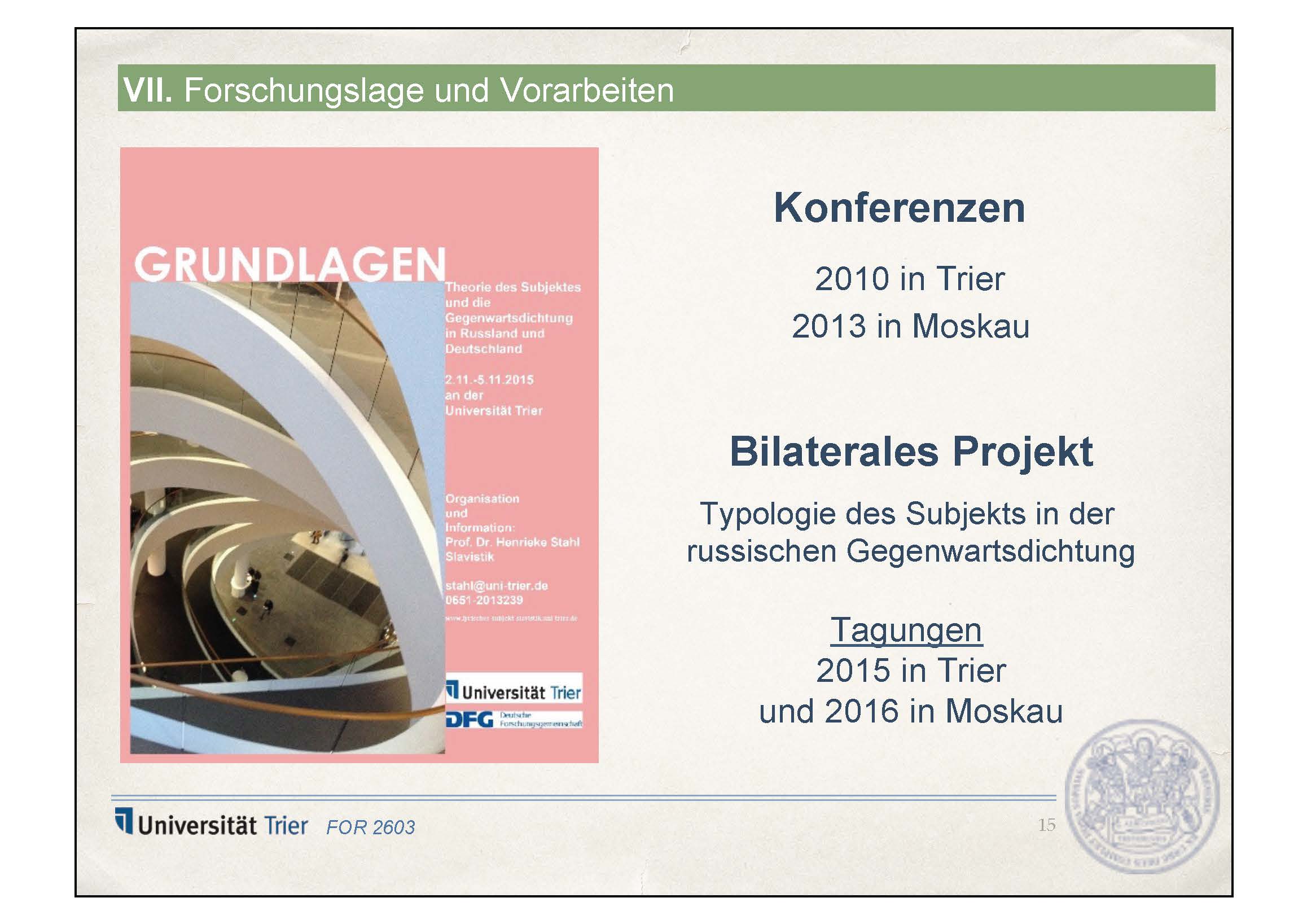 A bilateral German-Russian DFG-Project is dedicated to the subject of contemporary poetry and since 2015 has organized two conferences in Trier and Moscow, respectively. For more information, please visit https://www.uni-trier.de/index.php?id=57615.