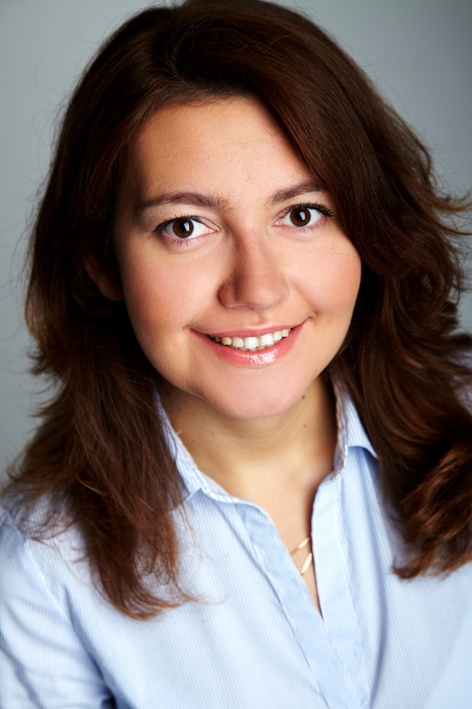 Dr.&nbspAnna Gavryliuk
Postdoktorandin
Email:
Phone:
+49 651 201 3583
Raum:
DM 9
Schwerpunkte:
Main Research Interests
literary studies
contemporary poetry
political poetry
contemporary Russian, Ukrainian, and American poetry
Project Involved

F4-Transition of society/societies
Current Research
Here you can find an abstract of Anna Gavryliuk's research proposal
Publications
Recent publications:
Gavryliuk, Anna: Subject and Space in Contemporary Ukrainian Political Poetry. In: Proceedings of an Interdisciplinary Conference: People and Cultures in Motion: Environment, Space and the Humanities. College of Liberal Arts, National Chengchi University. Taipei, 2017.
Gavryliuk, Anna: Social Media in Ukraine's Poetry and Politics. In: Russian Literature CFP: Digital Humanities and Russian and East European Studies (is in peer-review).
Гаврилюк, Анна: Формы субъектности в современной украинской гражданской поэзии. // Формы субъектности в современной гражданской украинской поэзии (2013-2015).
Project-based Achievements
A full list can be found here
Werdegang:
Current Positions
Research assistant
Academic Experience
April 2014-September 2017: University of Trier, studying Master of Education degree in English, Russian, Pedagogical Science
April 2014-April 2017: University of Trier, Bachelor of Education in English, Russian, Pedagogical Science
September-October 2016: Internship in the English Department at California Polytechnic State University, San Luis Obispo, California
May 2016: Ph.D., Borys Grinchenko Kyiv University. Dissertation topic: "Tendencies of Development of Classical German Universities"
March-April 2016: Research sojourn at Waseda University, Tokyo, Japan
Since May 2015: Graduate Assistant at the Department of Slavic Studies, University of Trier, Germany
Since October 2015: Teacher of Russian at the Language Centre, University of Trier
Since October 2015: Teacher of Ukrainian at the Department of Slavic Studies, University of Trier
2011-2015: Post-graduate study at Borys Grinchenko Kyiv University
2011-2014: Master of Arts in North American Studies, University of Trier
2008- 2012: Program Coordinator in the International Department, BorysGrinchenko Kyiv University, Ukraine
March-April 2012: Advanced English course, CCLA language school, San Luis Obispo, California
2009-2011: English Instructor at Borys Grinchenko Kyiv University, Ukraine
2007-2008: Baden-Württemberg Scholarship, Pädagogische Hochschule Heidelberg (University of Education), Heidelberg, Germany
2006-2008: Master of Education, Borys Grinchenko Kyiv University, Ukraine. Qualification: Teacher of English, German and literature
2002-2006: Bachelor of Education, Borys Grinchenko Kyiv University, Ukraine. Qualification: teacher of English, German and literature