Die DFG-Kolleg-Forschungsgruppe "Russischsprachige Lyrik in Transition" (FOR 2603) lädt Sie herzlich zu der Öffentlichen Ringvorlesung zum Thema: Lyrik heute: Existenz zwischen Sprachen und Kulturen ein:
Poetikvorlesung von Herrn Michael Schmidt: "Messengers with news of light": Dichtung aus drei Perspektiven
Lecture
Michael Schmidt has accompanied and influenced the development of poetry in English for more than fifty years. He has accomplished this remarkable feat in three ways: as a publisher, as an academic and as a poet. Hence, Schmidt's Trier lecture gives an account of decisive developments and debates in English-language poetry worldwide – in a concise and exemplary manner. The publisher's and editor's perspective is complemented by examples taken from the extensive oeuvre of Michael Schmidt the poet, looking at influences which range from Hugo von Hofmannsthal, Boris Pasternak, Robert Frost and – in his own translations – to Octavio Paz. Last but not least, the lecture is based on Schmidt's experiences gained during decades of academic teaching and research at major universities in Britain and the United States; from his early years as a student at Harvard and Oxford, his professorships at Manchester, Glasgow and Bolton, and, of course, as the founder of three major creative writing chairs.
Biography
Michael Schmidt was born in Mexico City in 1947; he studied at Harvard and Oxford. Since 1970, he has published nine volumes of poetry, two novels, six poetry anthologies, five academic studies (most recently: The Novel: A Biography, 2014). Moreover, he is a publishing director of Carcanet Press, which he founded, and general editor of the poetry magazine PN Review. Schmidt held professorships in Manchester, Glasgow and Bolton, and founded the creative writing programme at the University of Manchester. He was also a writer-in-residence at St. John's College Cambridge, and Visiting Fellow Commoner at Trinity College, Cambridge. He is currently Professor of English at the University of Manchester and Visiting Professor at the University of Bolton.
Select Publications
The Novel: A Biography, Belknap Press, Cambridge, MA, 2014
The Stories of My Life, Smith / Doorstop, Manchester, 2013
Collected Poems, Sheep Meadow Press, New York City, 2010
The First Poets: Lives of the Ancient Greek Poets, Weidenfeld and Nicolson, London, 2004
The Story of Poetry in Three Volumes: From Cædmon to Caxton (I) / From Skelton to Dryden (II) / From Pope to Burns (III), Weidenfeld and Nicolson, London, 2001-2006
Mittwoch, den 15. Mai 2019
18-20 Uhr
HS 9 (Gebäude E), Universität Trier
Gäste sind herzlich willkommen!
Einen Flyer zu der öffentlichen Ringvorlesung der Universität Trier finden Sie hier.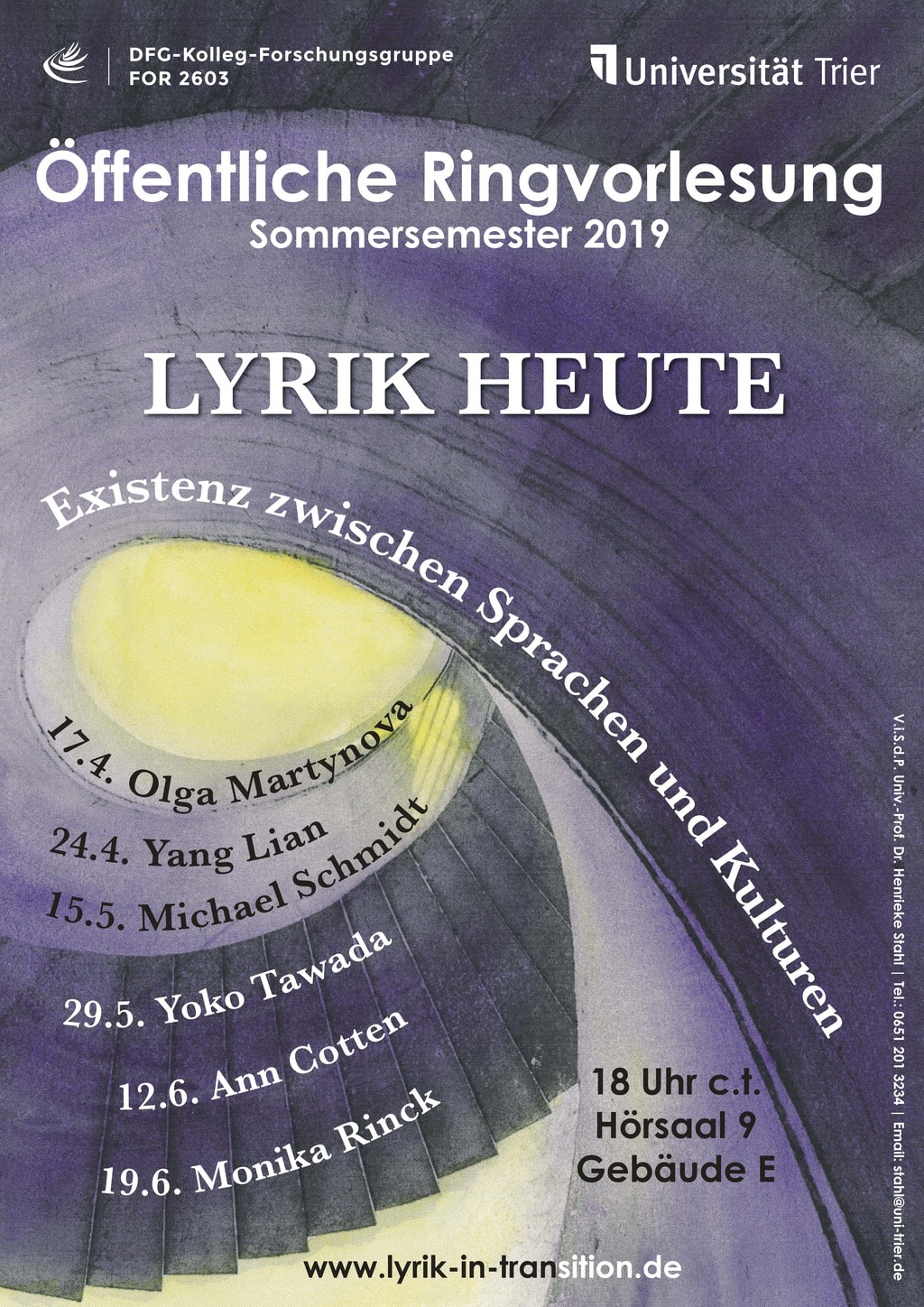 Das Plakat zu der Veranstaltung finden Sie hier.